Description

Traditional typed greeting card message. Type your message to accompany your balloon or flower gift.   Available only with the purchase of a balloon bouquet or flower arrangement.
Care and handling

BALLOONS: To ensure that your balloons stay in their best shape, we want to provide you with some important care instructions: 1. Water weight caution: Please note that most of our balloon bouquets come with a water weight. This weight helps to keep the balloons in place and prevents them from flying away. It is important to handle the balloons with care and avoid puncturing or exploding the water weight and having an accidental splash. If the water weight does get punctured, make sure to dispose of it safely. 2. Weather sensitivity: Balloons are sensitive to extreme temperatures and weather conditions. Please keep your balloons away from air conditioning units, and heaters, and avoid exposing your balloons to direct sunlight as the sudden temperature changes can cause the balloons to fade or become brittle or worst-case scenario burst. 3. Not a toy: Although balloons can be a fun addition to any celebration, please keep in mind that they are not toys and should not be played with. Keep them away from children and pets, as they can be a choking hazard if swallowed. Adult supervision is always required. 4. Decoration details: Some decor details such a wooden bugs, butterflies, stickers, etc. are small and can be a choking hazard, adult supervision is always required. By following these simple care instructions, you can enjoy your baloons to the max! and you can help your balloons to last as long as possible. Thank you for choosing our balloons and we hope you enjoy them! FLOWERS: All our flower arrangements come well-hydrated. Keeping them in a cool environment helps them to last longer. However, depending on temperature and weather conditions your flowers can quickly get thirsty, in which case we have added a flower food pouch that you can mix with water to rehydrate them when needed. By following these simple steps, you can keep your flowers fresher and enjoy their beauty for longer. FRUIT BASKETS. Our fruit baskets come with fresh fruits, and in some cases with cheese and other perishable items. We transport all our fruit baskets in a cooler to keep them fresh when you receive them. And we recommend refrigerating all the goodies in your basket as soon as you receive them to ensure the freshness of all your treats. Enjoy!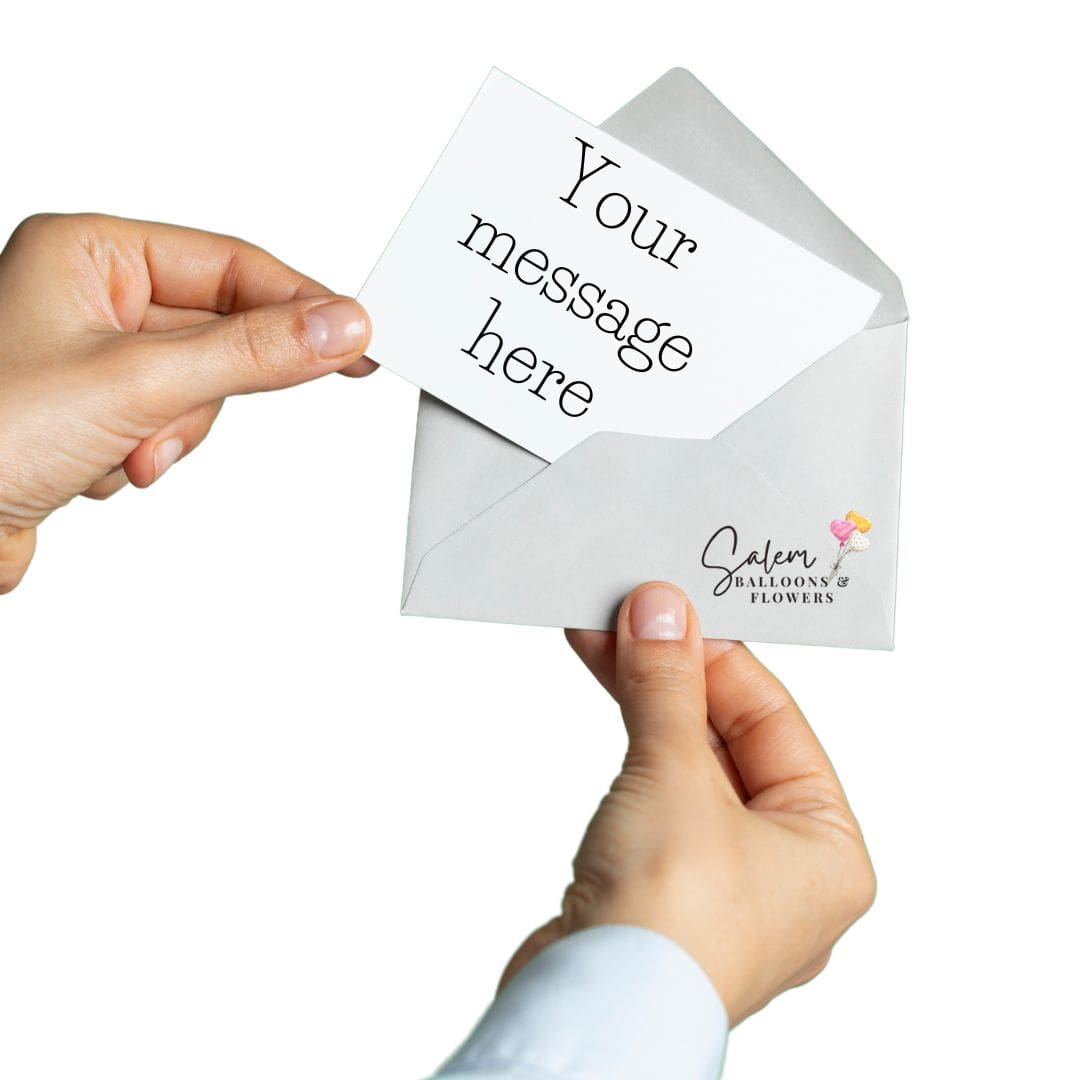 TRADITIONAL TYPED GREETING CARD
Balloons Salem Oregon and nearby cities.
Let's share the wonder of the unexpected!